Even in 2023, Pokémon GO will continue to be one of the most interesting game apps. It lets people travel around the world and catch Pokémon in different places, all while making friends and competing against them. Users have to leave their homes and go to certain places in order to catch Pokémon.
But, even though it is good for all ages, people in different countries have to deal with some changes that keep them from using some features. Based on where you live, you may only be able to catch certain types of Pokemon. Pokemon GO keeps track of players' IP addresses to handle this geo-restriction.
One of the methods to easily and rapidly advance in the game is to pretend that you are at a different location than you actually are. It is possible to modify your location in Pokemon GO if you use a GPS spoofing app together with a reliable VPN service. As a consequence of this, you will be able to hunt in the region that you are currently located in, in addition to finding species in other countries.
This article offers the most reliable and tried-and-true strategies for faking Pokemon GO in 2023, and it is compatible with both the iPhone and Android operating systems.
How to Spoof Pokemon GO location
When playing Pokémon GO, you can trick the game into thinking you are at a different area than you actually are by fooling the GPS on your device. This is referred to as "spoofing" a location. The following is a list of the steps:
Step 1: Select and install a VPN
Step 2: Install a GPS spoofing application
Step 3: Connect to your preferred VPN server location.
Step 4: Download and play Pokémon GO
Step 5: Use your GPS spoofing app to learn more about your new surroundings. Best of success capturing Pokemon in new virtual environments!
Five Best Apps to Spoof Pokemon GO GPS
In addition to using GPS, Pokemon GO determines your location using coordinates. As a result, you will want a GPS spoofing app in order to hide the fact that you have moved from one location to another from the game.
There are currently hundreds of Pokemon spoofing apps available, so selecting the appropriate one can be a challenge. Therefore, in this article, we will discuss the top 5 location spoofing apps available for Android and iOS smartphones.
PGSharp is the player's top pick for the finest Pokémon Go spoof applications available for Android devices. This trustworthy spoofing program provides a number of functions while maintaining the highest level of safety to shield the player from the possibility of being caught by the game company.


The installation process for the Pokémon GO parody app is far more simplified than that of iPogo. If you read the PGSharp instruction, you will become familiar with all of the specific guidelines and information necessary to spoof your Android device.
When it comes to features, the joystick makes it easy to move around, and you can also change how fast you move depending on the situation. With this best Pokemon Go spoofing app for Android, you can find various locations to play the game, get into poke shops to get things you need, and wander around.
You also do not have to "root" your Android phone in order to use this app. All you have to do is download this app to your phone, set the position on the PGSharp map, and you are good to go. Are you still not sure? Check out what it has going for it and what it has going against it, and then decide if you need this app or not.
Pros of PGSharp
You can save your past locations.
Make it easy and smooth to move around in the game.
Easy to control the speed of moving
Free version availability of this app
The paid version of this app is not very expensive.
Cons of PGSharp
Give access with limited keys
Lack some of the unique things, like being able to throw well and catch quickly.
The spoof app known as iPogo is modeled after the popular game Pokémon GO and gives users the ability to play a modified version of the original title. The game is made more pleasant by the addition of the app, which modifies the base Pokémon GO app in a few different ways.


This Pokémon GO spoofer offers a different user interface for playing the game, but it has all of the same functionality as the real program, although with a few minor adjustments. Some of the additional features include the ability to teleport to a different area, enhance your throw, automatically spin or catch, or catch like GO-Plus, and establish item limitations within the game.
You do not have to pay anything extra to teleport your position using iPogo, but if you want access to additional features, you will have to pay the premium subscription fee of $4.99 a month instead.
Pros of iPogo
It has the same great features as the Go-plus version, like the auto-catch and spin tool.
It is the best choice for users who want to clean up with just one click because they can delete items with just one click.
There is also a limit for setting up each item based on what you need.
Cons of iPogo
When installed, it turned out to be easier to fake. You can be found by Niantic.
Installation on an iOS device is a complicated process.
It has also had problems with how applications work.
There is also a Pokémon Go Spoofer app available for Android called FGL Pro. This professional location spoofing program gives you the ability to choose any spot on the planet as your new location. It provides safe location mocking in addition to automatic location fixing for fake locations.
Its safe location mocking function provides anonymity against all applications, including those that can identify the location mocking that this game uses. You can also use the function that allows you to share your route with other people to let your relatives and friends know where you are going to mock up.
The best thing is that you do not need to have rooted access to your smartphone in order to use this best Pokemon go spoofing app for Android. Additionally, you can utilize this app in conjunction with Snapchat.
Pros of FGL Pro
Allows you to pick any place in the world.
You can tell other people about your mocked address.
Walking and driving both have different speeds.
Use of the FGL Pro app is free.
Cons of FGL Pro
It displays too many ads.
Sometimes, it fails to perform well.
Installing the app on the device takes too long.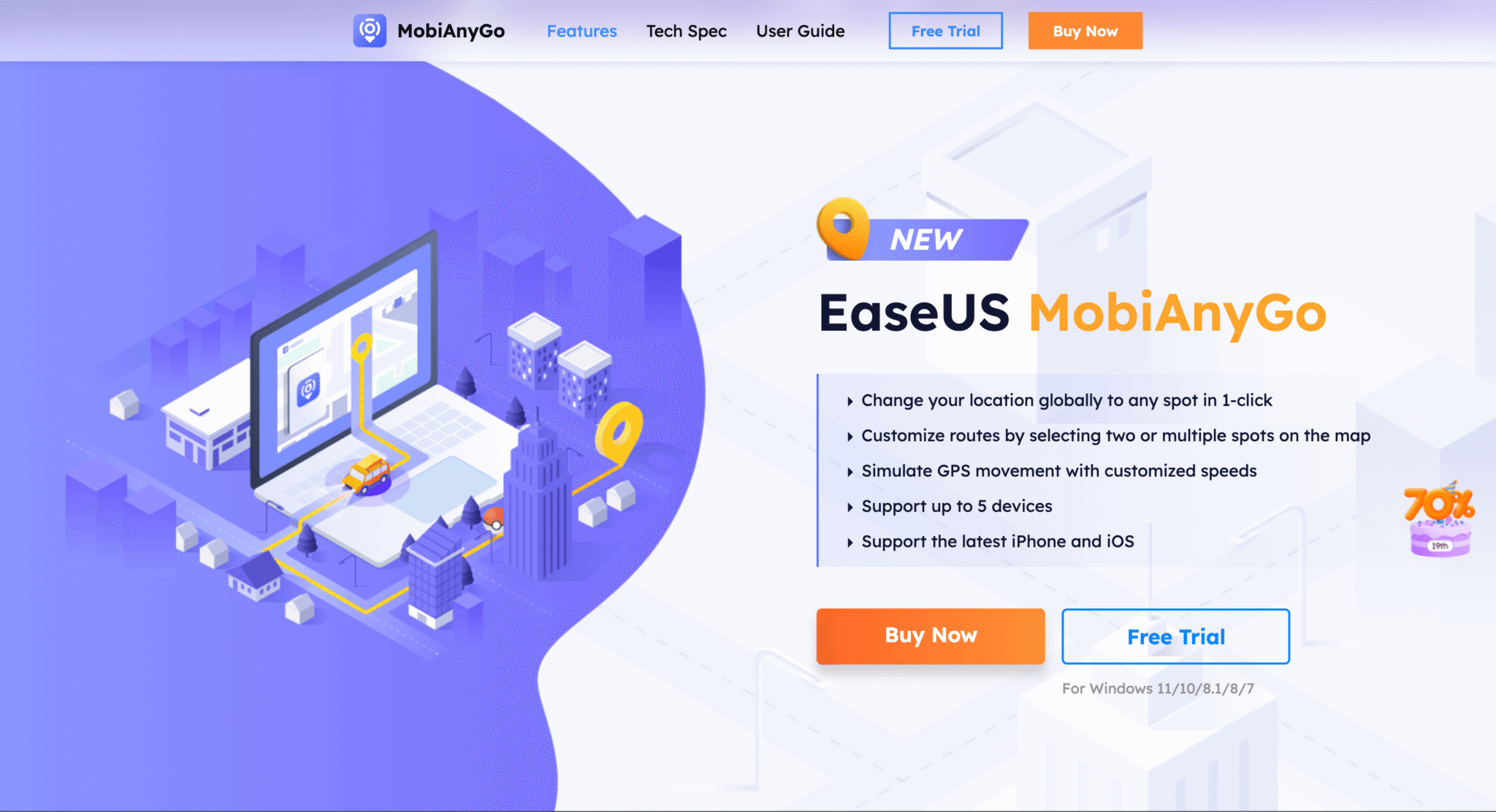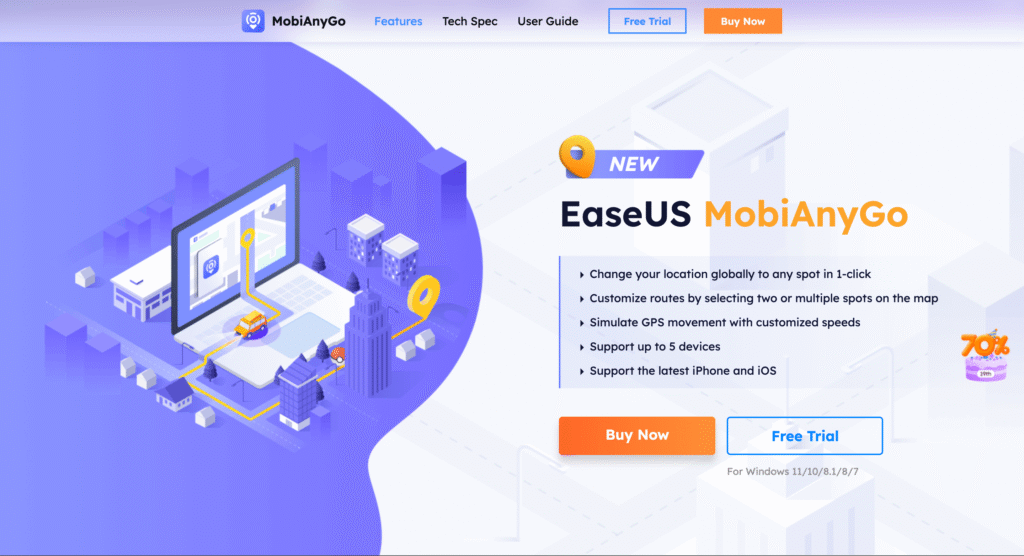 Another Pokemon Go Spoofer for iOS devices, MobiAnyGo enables players to fake their position on their mobile device and enjoy Pokemon Go even when they are not actually present at the location in question. iMobiAnyGo has a number of features, and the following are some details on how to use them:
Players of Pokemon Go can now shift their GPS position to a different part of the world with this feature. In addition to that, joysticks can be obtained. On the other hand, MobiAnyGo does not currently support the most recent version of iOS 16, nor is it accessible to Mac users.
In conclusion, despite the fact that EaseUS MobiAnyGo has a few flaws, it is still able to give iOS users with a valuable virtual location solution. Users who are looking for a solution that is less complicated to use and more trustworthy than Windows might want to take a look at Wootechy iMoveGo as an alternative.
Pros of MobiAnyGo
Works with most Apple iOS devices
Simple-to-use Mac computers can't work with it
Cons of MobiAnyGo
No service for Android
Does not have a joystick feature
Expensive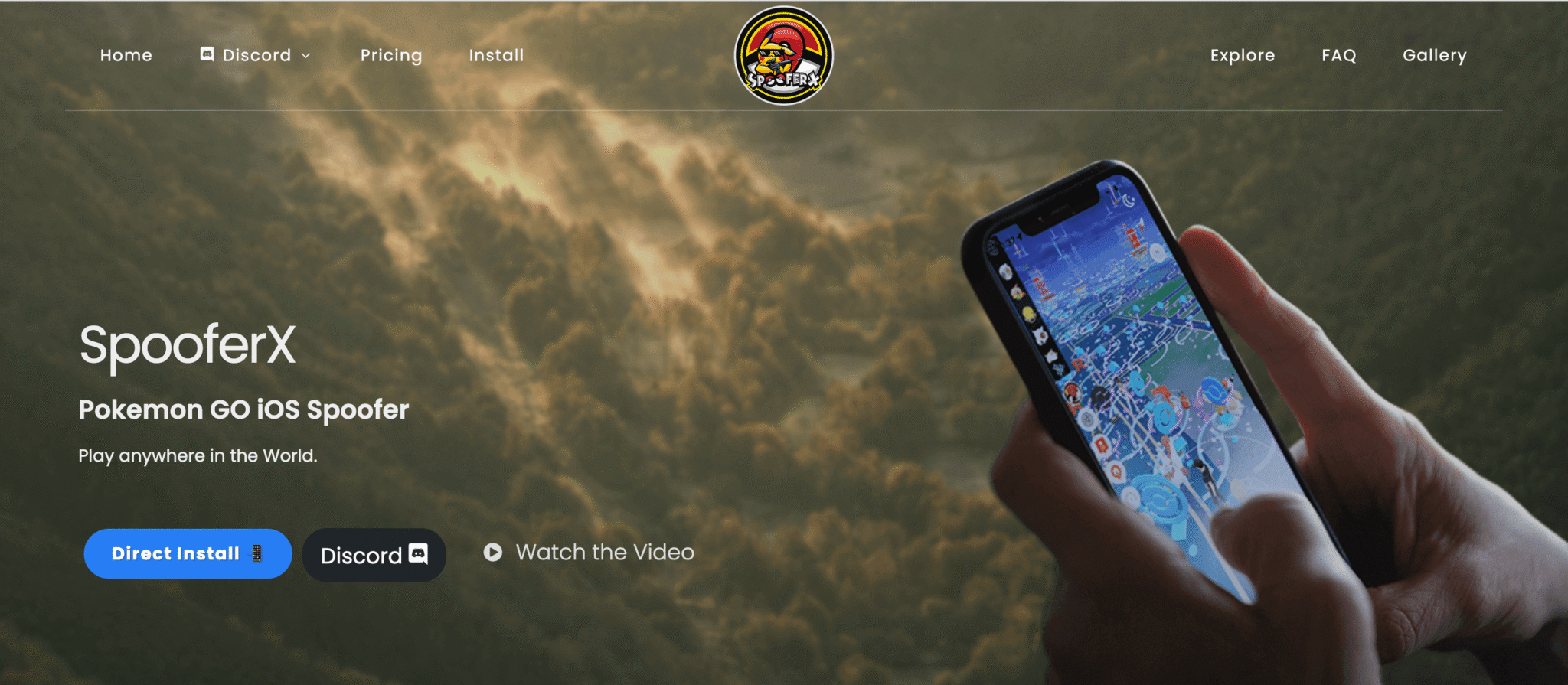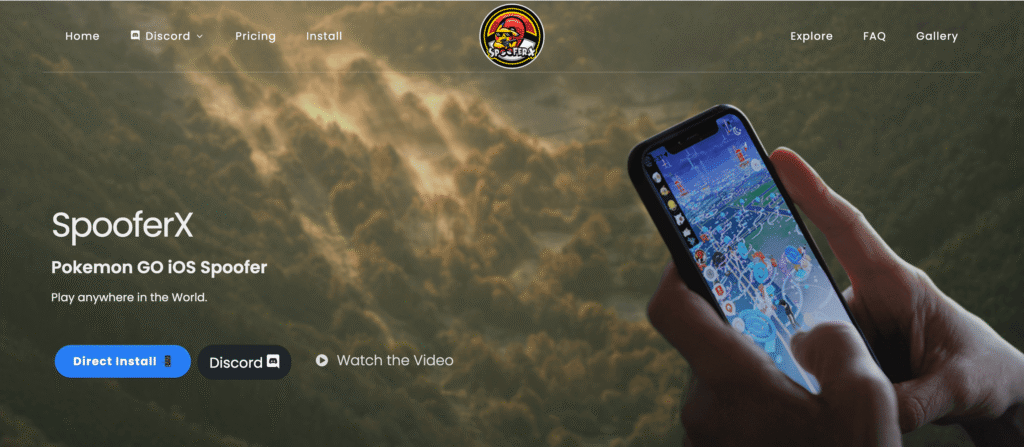 SpooferX is the last app we suggest on our compilation of Pokémon GO spoofing applications. It has a lot of the same features as iPogo and is only working with iOS devices. SpooferX has only just been made. So, iPogo has a lot of knowledge in the field. This also makes SpooferX less stable because the team continues to iron out the bugs in the app.
The steps for installing SpooferX are almost the same as those in the iPogo guide. The only change is that you need to get the IPA file from www.spooferx.app or find out more at spooferx.com.
Best Places/Coordinates to Spoof in Pokémon GO 2023
You have the option to fake your location and travel the world if you are one of those people who are unable to be as mobile as they would like to be or who simply prefer to play the game from the convenience of the couch in their living room.
The following is a list of the top five Pokémon GO faking sites in 2023, along with their coordinates, so that you can explore additional Pokémon GO Nests Coordinates.
1. Pier 39 in San Francisco, the United States
Pier 39 Coordinates: 37.809326, -122.409981
You may find a good amount of Pokémon in San Francisco, which is an excellent area to look for them. Even though there will be more spread out throughout the area, there is still a good chance that you may come across a few Pokémon in the vicinity of where you are in San Francisco.
Due to the fact that this location is on the water, there is a very high probability that players may capture the water varieties of Pokémon, which are rather uncommon.
2. Big Ben or Savoy Hotel, London, United Kingdom
Big Ben coordinates: 51.510357, -0.116773
Big Ben or the Savoy Hotel in London, United Kingdom, are the ideal Pokémon GO parody locations. Ample rare Pokémon, including Axew, Unown, Dieno, Tirtouga, Chimecho, Archen, and Goomy, can be found here by players.
There are also numerous landmarks in this area. Since Big Ben is a gym where you might find certain Pokémon, if you frequently visit the gym, you might want to look here for your next Pokémon catch. As many landmarks are present in this historic city as Pokémonstops, so are they in London.
If you are in the middle of the city, you may stock up on supplies and always have the opportunity to continue discovering new for you, and old sites that are great for discovering while you play.
3. Shibuya, Tokyo, Japan
Shibuya coordinates: 35.685001, 139.710007
It would be impossible to compile this list without including Tokyo as a strong candidate for the title of finest spot to make fun of Pokémon Go. This city is just about perfect when it comes to catching Pokémon.
Due to the fact that Pokémon was created in Japan, this town is perfect for making jokes about the game Pokémon GO. There are several locations in Tokyo that contain a large number of Pokémon, but Shibuya is home to the most unique and uncommon types of Pokémon in all of Tokyo.
You can find gyms, Pokestops, and a great deal more in a lot of the city's most popular neighborhoods. In this particular scenario, Shibuya is an excellent location to search for fantastic Pokémon.
4. Disneyland, Anaheim, United States
Disneyland in Anaheim coordinates: 33.812511, -117.918976
There are many Pokémon in this world, full of animation and joy. You might not think of Disneyland as an ideal location to capture Pokémon at first, but if you think about it, it makes perfect sense. Disneyland is home to many classic animated characters, so it is no wonder that Pokémon GO conceals many Pokémon there.
Disneyland in Anaheim is a venue where many people are probably playing the game, so you should have no trouble finding a Pokémon.
Because there are so many individuals in a certain location, lures are frequently located around. And if you are seeking a fantastic venue to fight, Sleeping Beauty Castle can be of assistance.
5. Big Ben, London, United Kingdom
Big Ben coordinates: 51.510357, -0.116773
Another fantastic location for catching Pokémon is London. There are also numerous landmarks here. Big Ben is a gym where you can discover Pokémon, so if you are a regular gym goer, you might be able to find your next Pokémon catch here. As numerous landmarks stand in this old city, you can find various Pokémon stops here in London.
If you are in the middle of the city, you may stock up on supplies and always have the opportunity to continue discovering new and old sites that are great for discovering while you play.
Why Do You Need a VPN to Change Your Pokemon GO Location?
Although it is unclear how the game can determine where you are, it probably uses your IP address. As a result, the game may also determine whether your IP address and mobile device's GPS coordinates match. Pokemon GO has the power to prevent you from gaming for a week or longer if it discovers errors.
Only in this manner can you safely spoof while maintaining your privacy. In order to access GO from different locations, a top-notch VPN encrypts, redirects, and changes your IP address while doing so.
With a VPN, your IP address would not be used to identify you. This aids in hiding your position in Pokemon GO. Once you have changed your area with GPS spoofing, you will have access to Pokemon that you would not otherwise be able to find!
Unfortunately, there is no such thing as a basic Pokémon GO GPS hack. Even while GPS spoofing is totally legal, there are a few problems. For starters, most games consider spoofing to be a punishable infraction.
Best VPNs for Pokemon GO
A VPN can be useful if you want to reduce the likelihood that Niantic will discover that you are hiding your location. If your IP address fits your coordinates, there will be a minor concern that your location is false. Your IP address will even stop being traceable while using a VPN. The top VPNs for the task are listed below.
ExpressVPN has a huge server network, with over 3,000 servers scattered across 94 countries. Its user-friendly and simple interface allows you to easily exchange virtual areas.
While you are trying to catch Pokemon, having your connection slow down can be an incredibly frustrating experience. You won't experience any slowdown when playing PoGo because of the lightning-fast bandwidth offered by ExpressVPN. Connecting to remote servers might cause a decrease in performance, particularly when traveling over a significant distance; therefore, you should avoid using long-distance servers.
ExpressVPN is compatible with practically all operating systems and mobile platforms, including macOS, iOS, Android, and Windows. Thank goodness, none of the apps are difficult to work with. You are permitted to use up to five devices concurrently, but if you install the app on your router, you will have an unlimited number of connections available to you.
ExpressVPN will safeguard both your traffic and your IP address with a military-grade encryption protocol called AES 256-bit. In addition to that, it employs an RSA key with 4096 bits, an AES cipher with 256 bits, and a SHA-512 HMAC, with perfect forward secrecy. Niantic is unable to detect whether your Pokemon GO position is being spoofed, to put it another way.
When compared to other VPN services, ExpressVPN isn't the most cost-effective option, which is a minor limitation. On the other hand, it offers a thirty-day money-back guarantee on all of its subscriptions. You have a full thirty days to file a claim for a refund if you are not completely satisfied with the product.
Specs of ExpressVPN
Server count: 3,000 servers spreading across 94 countries
Connection limit: connect up to 5 devices simultaneously
Free Version: 30-day money-back guarantee.
Pros of ExpressVPN
Increased security suite
Avoids all geographical restrictions
Reliable speeds
Compatible with Pokemon GO, Ingress Prime, Angry Birds AR, and AR Dragon, among others.
Cons of ExpressVPN
Higher-than-average prices
Players that are restricted to a specific zone in Pokemon GO can choose Surfshark as one of their top options. You not only have access to a huge server fleet (3200+ servers located in 100 different countries), but also a GPS spoofing feature. If you buy Surfshark, you won't need a different app to trick Pokemon GO into thinking you are somewhere else!
In addition, this VPN offers a feature called "Quick Connect" that allows it to automatically select the server that will provide you with the fastest connection. You also have the option to connect manually by choosing the location you wish to connect from and doing so, which is not difficult.
Not to mention that the software is great in a number of other ways as well. For example, your IP address will always be safe thanks to a strong kill switch and one of the strongest AES-256 encryptions available. Surfshark is also one of the strongest VPNs you can use right now, so you can be sure that your gaming experience will be smooth and fast.
Your IP address could become public knowledge if the encrypted connection between your device and the VPN server ever breaks. There is a feature in Surfshark that prevents this from taking place. This function, in contrast to those found in other VPNs, does not activate itself; rather, you are responsible for activating it manually. Because of the base connection screen, getting there is really simple.
When using a VPN, if the encrypted connection suddenly stops, your IP address could become public. Surfshark has a kill switch that prevents this from happening. Unlike other VPNs, this feature is not automatically turned on, so you have to turn it on yourself. It is easy to get to on the connection interface that is used by default.
Each Surfshark subscription enables an unlimited number of concurrent connections to the service. This enables the game to be played on any number of devices that the player chooses. It is a blessing that it is compatible with major operating systems such as Windows, macOS, Android, and iOS.
Specs of SurfShark
Server count: 3200 servers in 100 countries
Connection limit: unlimited number of simultaneous connections per account.
Free Version: 30-day money-back guarantee.
Pros of SurfShark
Packages with reasonable price tags
Outstanding geo-unblocking capacity
Blazing-fast servers
Unlimited connections simultaneously
Reliable kill switch
Independently verified zero-logging policy
Cons of SurfShark
Some unsatisfactory technical support
NordVPN has more than 5,240 servers in 60 countries, some of which are in places that can't be reached. The United States and the United Kingdom have the most servers, but there are also servers in Asia, Australia, and Africa. It is also one of the best VPNs for getting around geo-restrictions, which lets you use more Pokémon features.
Your real IP address will remain concealed behind a series of locks and a powerful barrier encrypted with AES-256 as long as this protection is in place. In addition, players of online video games may anticipate a lag-free experience because of the NordLynx tunneling technology and the blazing-fast download speeds made available by this service.
Regardless of how dependable your VPN service may be, there is always the possibility that your VPN connection could be disrupted for any number of reasons at any time. Nevertheless, if you take advantage of NordVPN's guaranteed kill switch, which is present on both the iOS and Android apps, you won't ever have to worry about your IP address being leaked accidentally.
You will require a VPN that is capable of keeping up with the fast-paced conflicts in Pokémon GO. It is to NordVPN's credit that it is able to maintain a consistent connection speed throughout the vast majority of its servers, irrespective of where those servers are physically located. Because of this, it is now possible to play Pokémon from any place while experiencing very little to no lag.
You will be able to play Pokémon GO without having to worry about your real IP address being exposed thanks to the kill switch option offered by NordVPN. If the VPN connection drops, it will immediately turn off your access to the internet. The procedure of setting it up is basic, despite the fact that it is not activated by default.
When it comes to keeping your data safe, NordVPN employs a 256-bit AES encryption protocol. This prevents Niantic or any other third party from accessing your IP address and protects your privacy. In addition to this, it utilizes a feature known as Perfect Forward Secrecy, which rotates the encryption key for each new session.
Also, you will have access to six connections at the same time. As a result, you and your friends and/or family will have the opportunity to split the remaining slots.
Specs of NordVPN
Server count: 5,240 servers in 60+ countries
Connection limit: connect up to 6 devices simultaneously.
Free Version: 30-day money-back guarantee.
Pros of NordVPN
Massive server fleet
Excellent speed test results
Strong security
Independently verified no-logging policy
24/7 live chat
Effective kill switch
Split tunneling
Massive global server presence
Cons of NordVPN
Some servers are unstable
No free version
Frequently Asked Questions (FAQs)
Q. What happens if I am caught changing my Pokemon GO location?
Niantic, the company that made the game Pokemon Go, has a policy called "three strick." If they catch you cheating or making up locations, the first punishment is that you can't find rare Pokemon for a week. The second punishment is that your account will be blocked for at least a month, and the third punishment is that your account will be banned for good.
You are able to make a new account, but the rare Pokémon that you have caught after a lot of toil and effort will be lost if you do.
Q. Can I be banned from Pokemon Go for changing my location?
Yes. If you use a VPN that is not reliable, your real location can be found quickly. This makes you vulnerable. So, if you want to change where you are in Pokemon Go, you need a VPN with strong security features.
However, it is important to keep in mind, that Niantic considers any method that can fake or change the location of your Pokémon GO to be cheating, and if you are caught cheating, you will either receive a warning or be permanently banned from playing the game. For the sake of keeping your account safe, it is in your best interest to steer clear of any and all techniques of game cheating.
Q. Can I spoof my Pokemon GO using a free VPN?
No, technically.
However, many free VPNs are not reliable and might even use your information to sell it to third parties. Free VPNs have a limited number of server locations, hard data limits, and bandwidth caps. So even if you find one that lets you play PoGo, you probably won't have much time to play, and you might get kicked out of games because the speed is not consistent.
Q. Is it essential for using a GPS spoofing app?
Pokemon also uses the coordinates that are stored on your device in order to detect your position, in addition to using your IP address. However, if you use a VPN in combination with a GPS spoofing app, the game won't be able to tell that you have moved.
Wrapping Up!
Even though Pokemon GO is available in every region of the world, the location in which you play the game could prevent you from getting the most out of it. You may open up a world of possibilities, though, by disguising your location via a VPN and fooling your GPS. You can, for instance, unblock characters and gain access to new cities and streets so that you can catch Pokemon in the locations of your choosing.
The idea is to make sure that your IP address and GPS coordinates are identical so that Niantic, the American software development company that is behind Pokemon GO, will not be able to tell if your position has been spoofed.
The good news is that it is not too difficult to fool a region-locked copy of Pokemon GO with a phony GPS. A VPN will not only allow you to conceal your IP address, but it will also safeguard you from hackers and other harmful third parties. You will be able to enjoy the complete Pokemon GO experience no matter where you are, as long as you have a reliable VPN and an app that can fake your location.