It is safe to say that Google has become an important part of the digital lives of a great number of individuals. Because of how common its products are, the firm behind them is commonly mentioned as the most powerful in the world.
You may make frequent use of a variety of tools, including Google Chrome, Google Maps, Google Mail, Google Photos, Google Drive, and even YouTube. These are just some of the many Google products available.
The Internet has changed everything about how we think about information. It has made it easier for more people to get to that information. Even what kinds of information you can get. When you use Google's search function to find out about the world, Google uses your searches to find out about you.
In fact, when you search the web or watch videos online, you give Google a lot of information. Google uses this data to build a profile of you so it can show you ads that are more meaningful to you. You might not mind giving Google your name, but you might not want it to know what you look like or where you are going.
The explanation is simple and clear: Google has increasingly become a tracking firm. Google can use all of this information to create a detailed profile of you. Since they are keeping such detailed records of your every move, they may actually know you better than you know yourself.
What Does Google Know About You?
Some of the things Google knows about you probably won't come as much of a surprise to you. Name, age, gender, and phone number are all examples of personal information.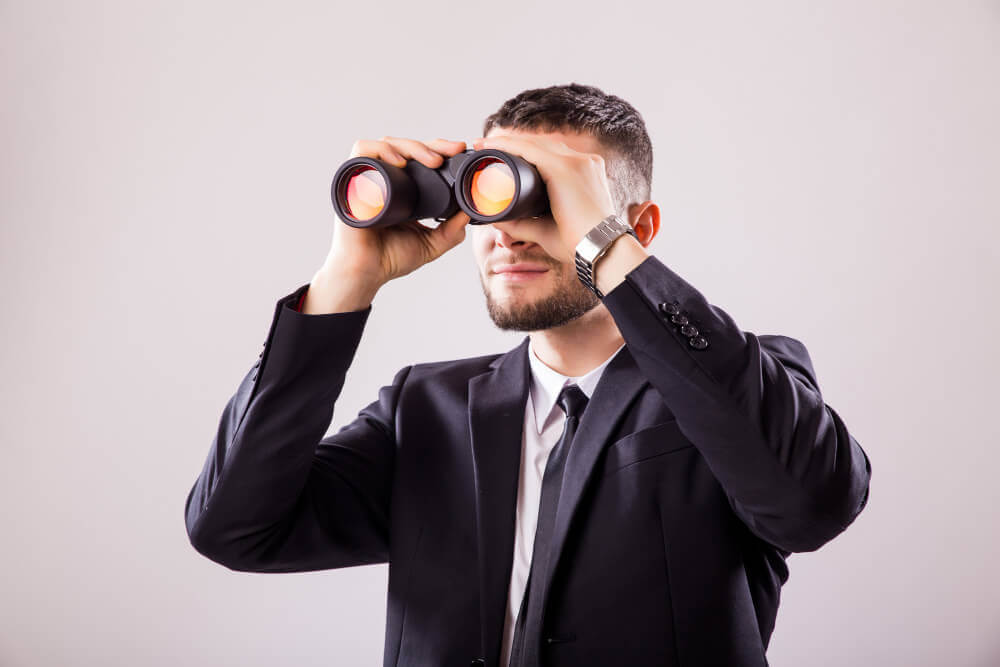 The following information may be known to Google, however, depending on which Google products you use:
The way you appear (Google Photos)
The way you sound (Google Voice Search)
The place you are headed (Google Maps and Waze)
To whom you are speaking (Google Mail)
Which videos you are watching online (YouTube)
Your preferences and dislikes, desires, and hobbies (Google Search, YouTube, etc.)
Results of your searches
Your Favourite Websites
Advertisements you click or tap
Your location
Device information
IP address and data from cookies
These are but a few examples of the several kinds of information that Google can collect for the purpose of advertising. If you use more of Google's services, the more information Google will have on you as a user.
Most of these details are stored in a cookie, which links you and your device to a profile of you in Google's data centers. By putting these pieces of information together, Google can find out even more about you. They can do this because cookies that react to their ad code let them track you across websites. So, they know not only what you browse for when you are using Google, but also when you search for things anywhere else on the Web.
Even though not all websites use Google Ads, most of them do use Google Analytics, which is a free tool that gives webmaster data. Even if you are using an ad blocker and do not see Google ads, it is likely that most of the websites you visit are still collecting information about you.
How to See What Google Knows About You
It is possible that the fact that Google has such data about you does not bother you in the least. After all, Google is able to generate cash through advertising, which allows it to provide its products for free and with an easy-to-use interface.
Yet, your information is an expensive commodity, and you have the right to safeguard it, particularly if you do not trust how or to whom it is being transmitted. In this case, you have the right to protect your data. In addition, even if you think of yourself as someone who places a high value on privacy, it is still a good idea to review your privacy settings every so often to ensure that the information you are making public is acceptable to you.
You can use the following instructions to view the information that Google is tracking and to make any necessary corrections. You just need to follow these steps once you have your browser open and are logged into Gmail or Google:
Once you're inside your Gmail or Google account, visit your Google Account page. You can easily do so by clicking on your profile picture showing on the top-right side of the screen.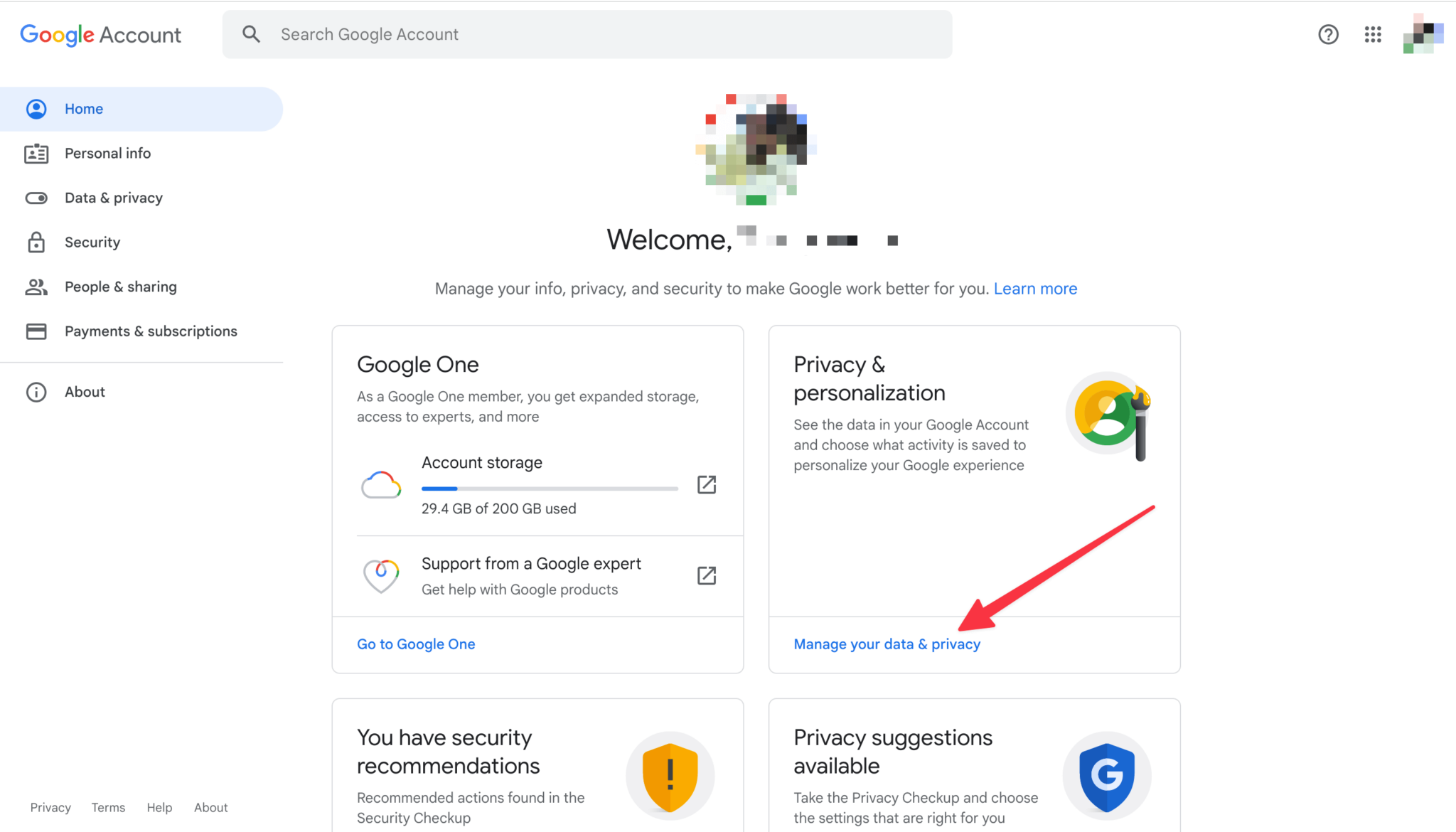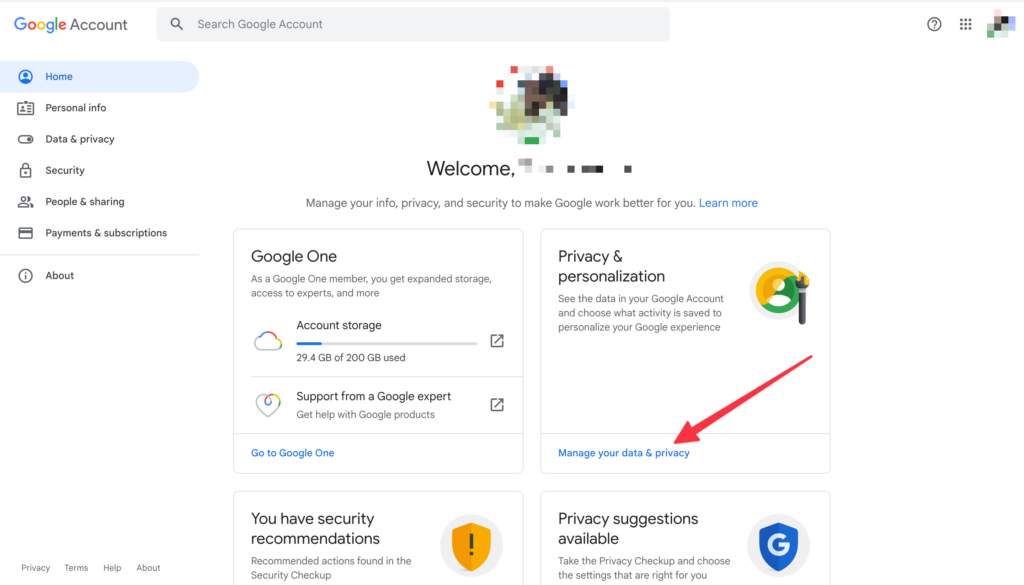 After you click on your profile picture, it will further open a pop-up, where you'll see the "Manage your Google Account" page. Afterward, click on the "Privacy and Personalization" section, as shown in the image above.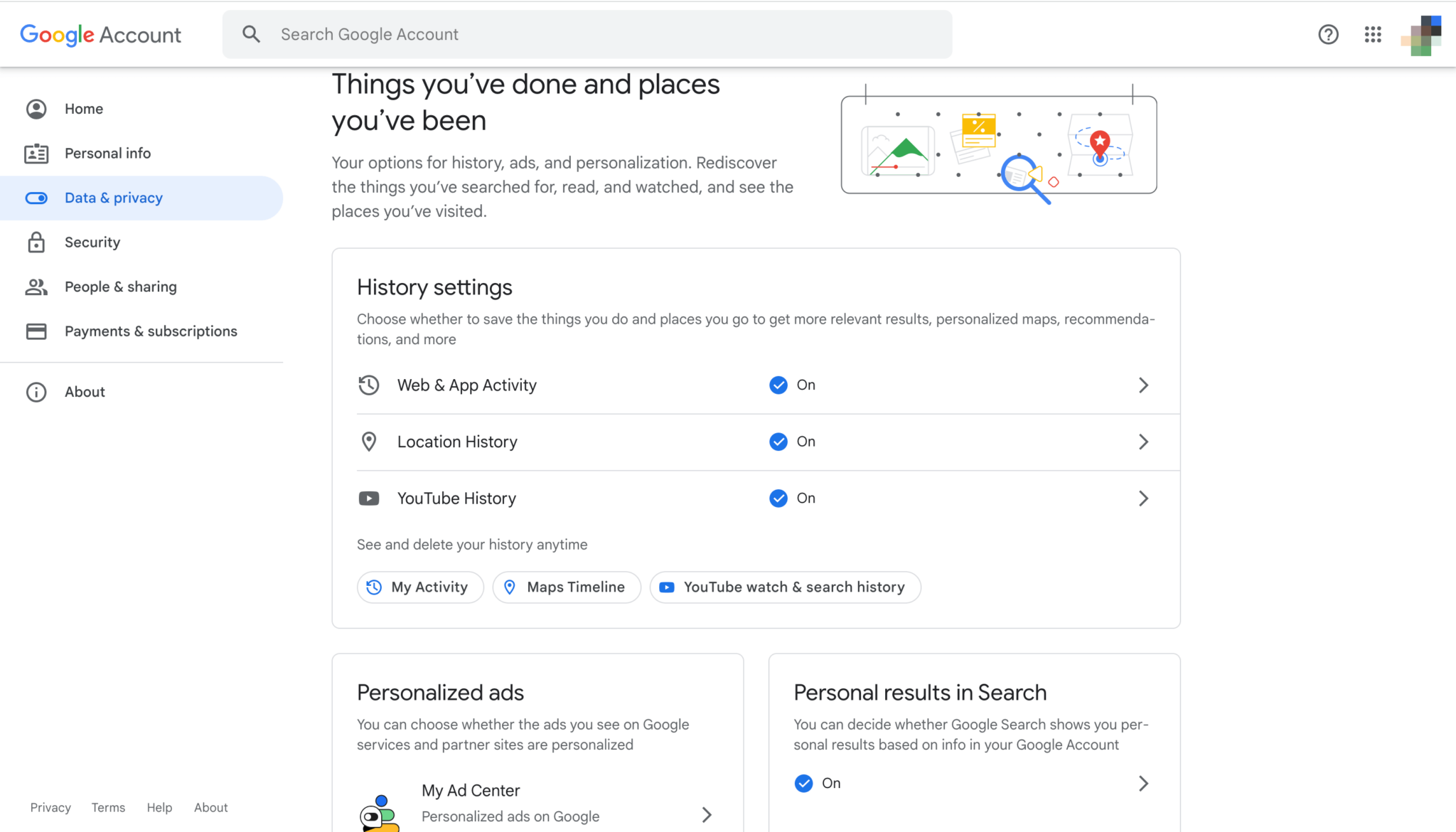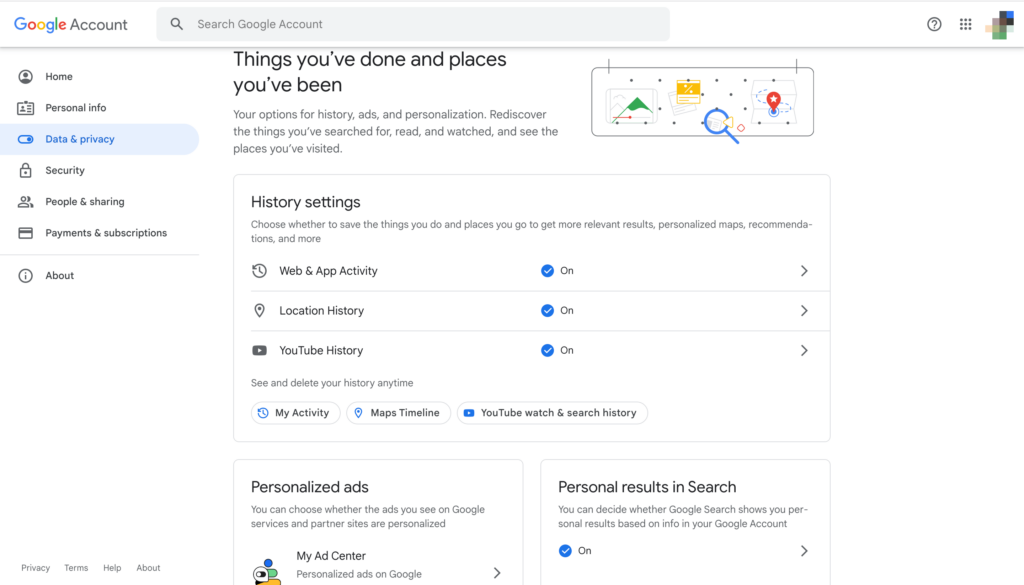 Now, under this page, you'll find various types of settings and history Google stores about you, including your search history, ads, and more.
Now, you can customize these and also see what Google actually knows about you!
How to Manage Google Data
Once again, erasing the information your Google Account stores is a painless task. You can do both of these things on the same page that shows you what information Google has collected about you (Data and privacy).
You may protect both yourself and your data by taking the appropriate precautions, which are outlined below. It is possible that deleting and turning off all of these settings may be a bit of a chore. But if you are truly concerned about the privacy of your information, these are the most effective options that you have to protect yourself.
1. Turn off Ad Personalizations
Turning off ad personalizations is one of the most effective measures you can take to prevent Google from gathering information about you.
I feel like we should warn you, though, that Google will try to get you to leave them on, just like every other tech company. They will tell you that it will spoil your time on the internet.
But what they genuinely mean is that they won't be able to target you with advertisements for those particular goods that you clicked on unknowingly that one time. You will instead be shown several advertisements, some of which may or may not be relevant to you, which you will actively choose to ignore.
Simply follow these instructions when you are ready to disable the customization of ads:
Step 1: Visit Google.com and log into your account.
Step 2: Click the App button that looks a bit like a waffle.


Step 3: To change how ads are customized to you, click on Account > Manage your data and privacy > Ad personalization.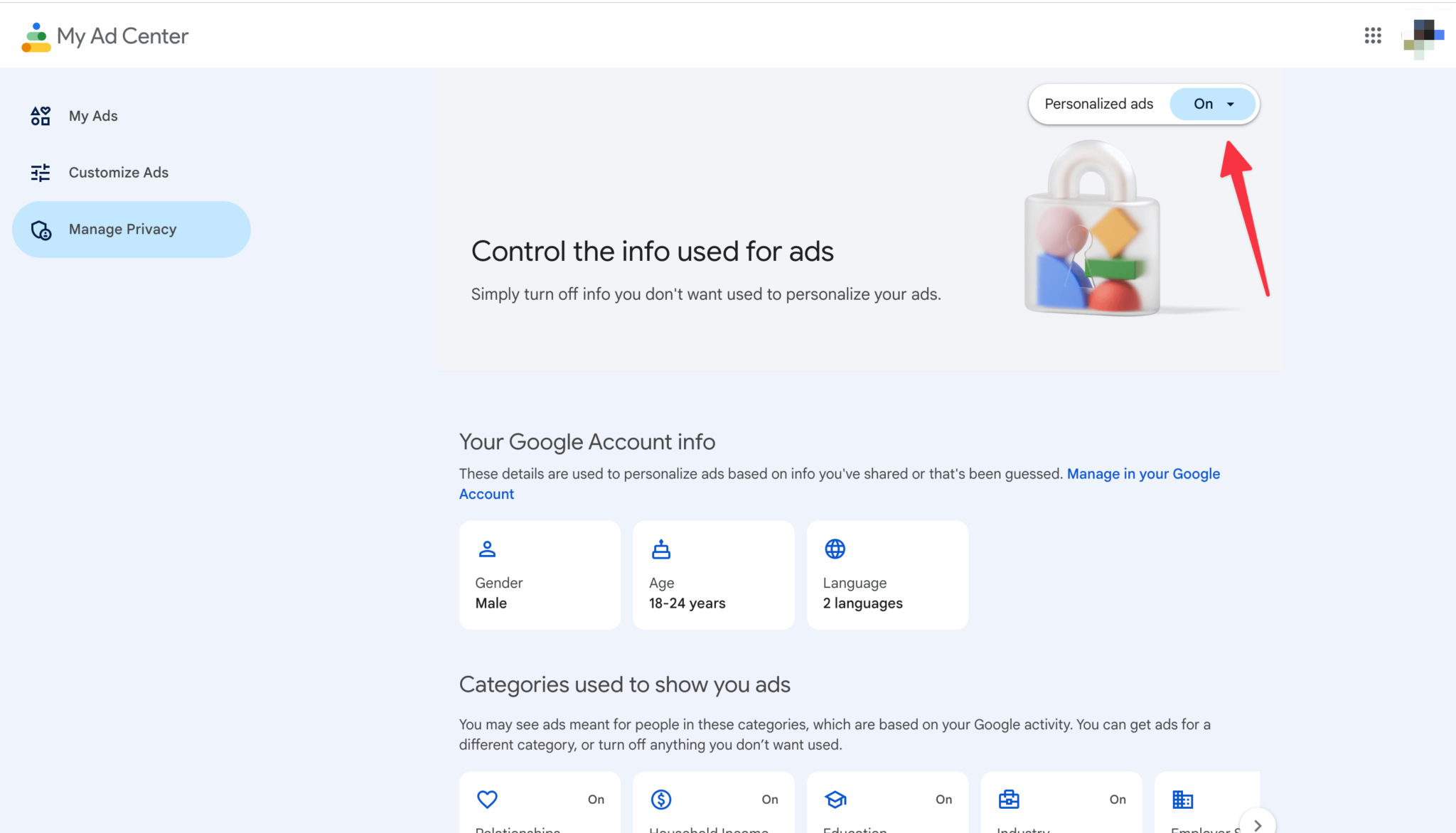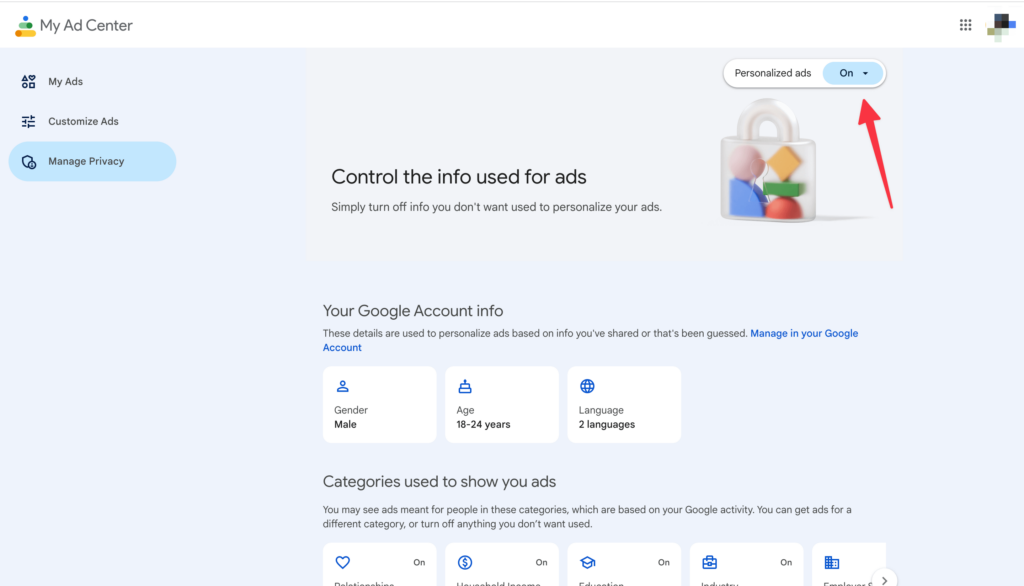 Step 4: Turn the button off.
After that, you should log out of your account and then restart your browser, just to be safe.
You may, of course, remove any of the features Google has assigned you if disabling ad personalizations seems too extreme. If you have been following along, the final step is simply:
Step 1: Select the feature you wish to remove by scrolling to it and clicking on it.
Step 2: Then, select Turn off.
2. Delete your History (Web & App, Location, and YouTube)
This is how you can remove your history from Google: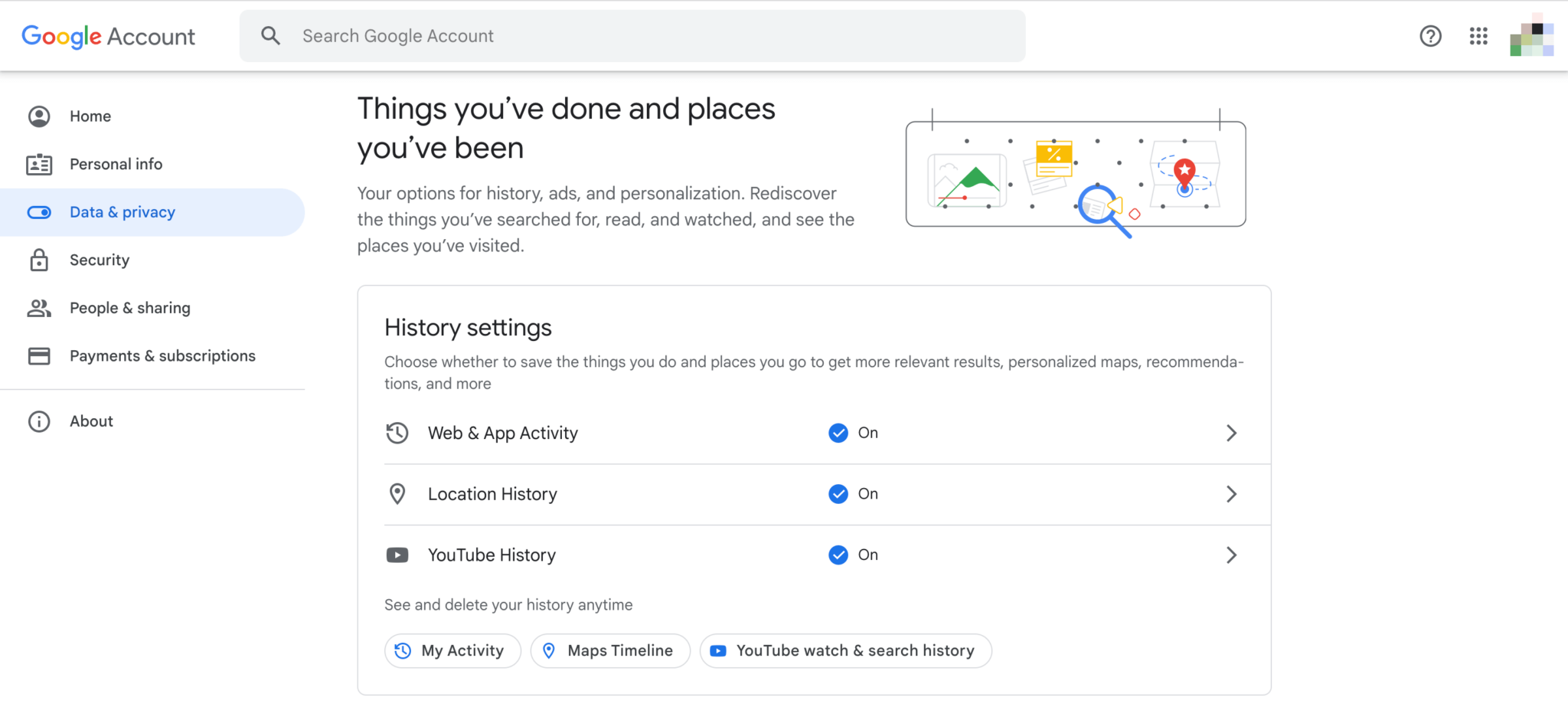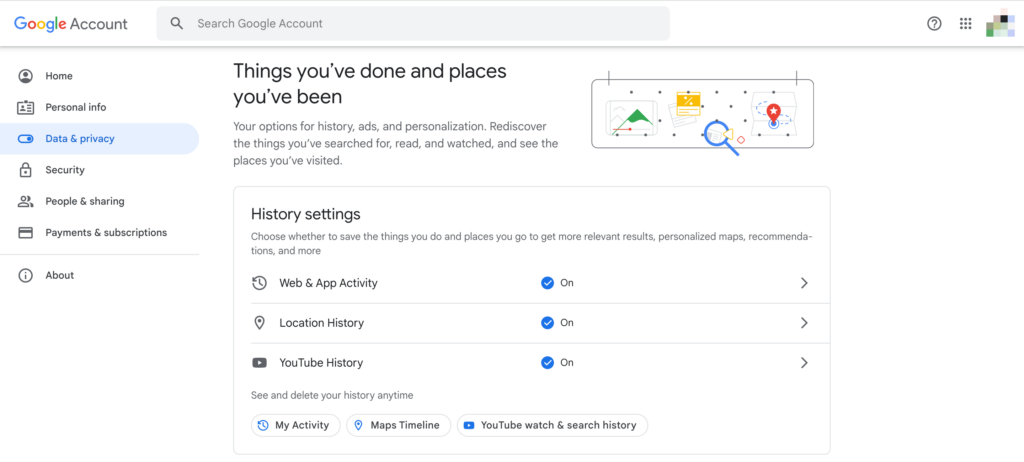 Step 1: Go to Data and Privacy and find History Settings.
Step 2: Choose the option you want to delete (Location History, Web & App Activity, or YouTube History).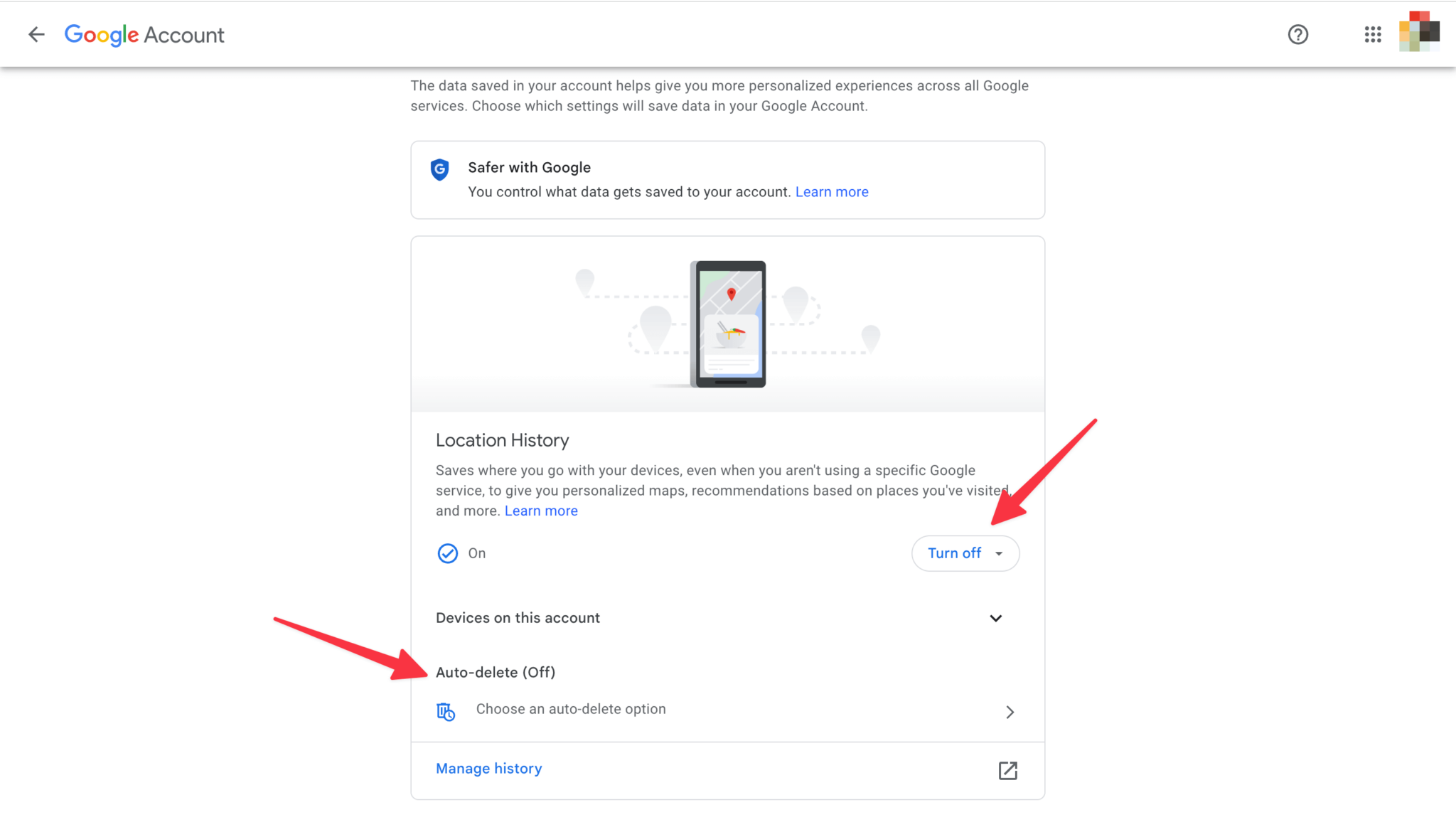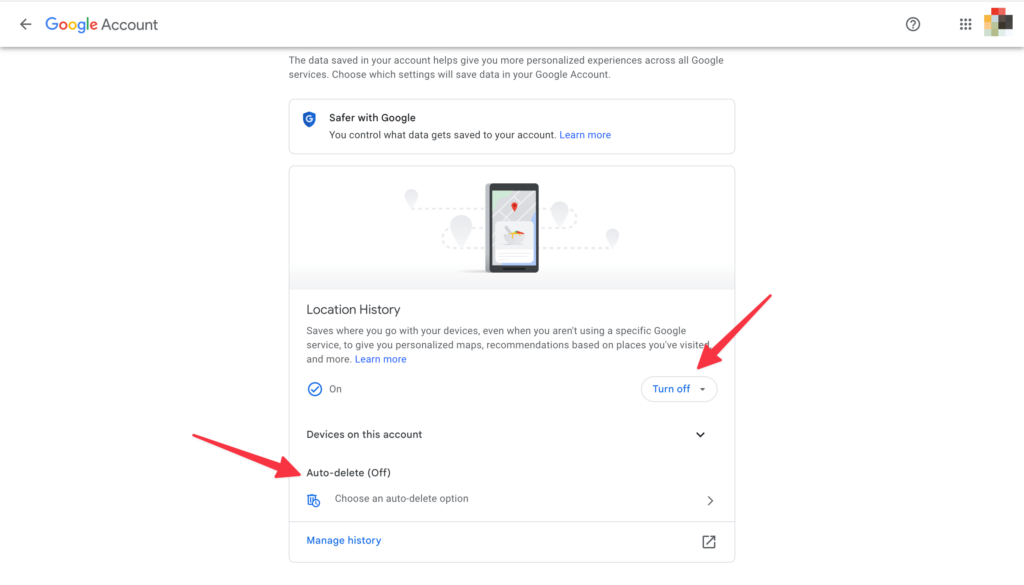 Step 3: On the Activity Controls page, select the button labeled Turn off. Optionally, you can select an auto-delete option in each case.
Step 4: A pop-up window will show up with the option to stop tracking. Scroll to the end of the text and click the blue button that says "Pause."
Step 5: All done! The right Setting is now turned off. You can now do the same thing with the other settings.
3. Adjust the information that you share with others
You can follow this procedure in order to separate out your personal information regarding sharing:
Step 1: You can find the information you can share with others in the "Data and Privacy" section; visit it.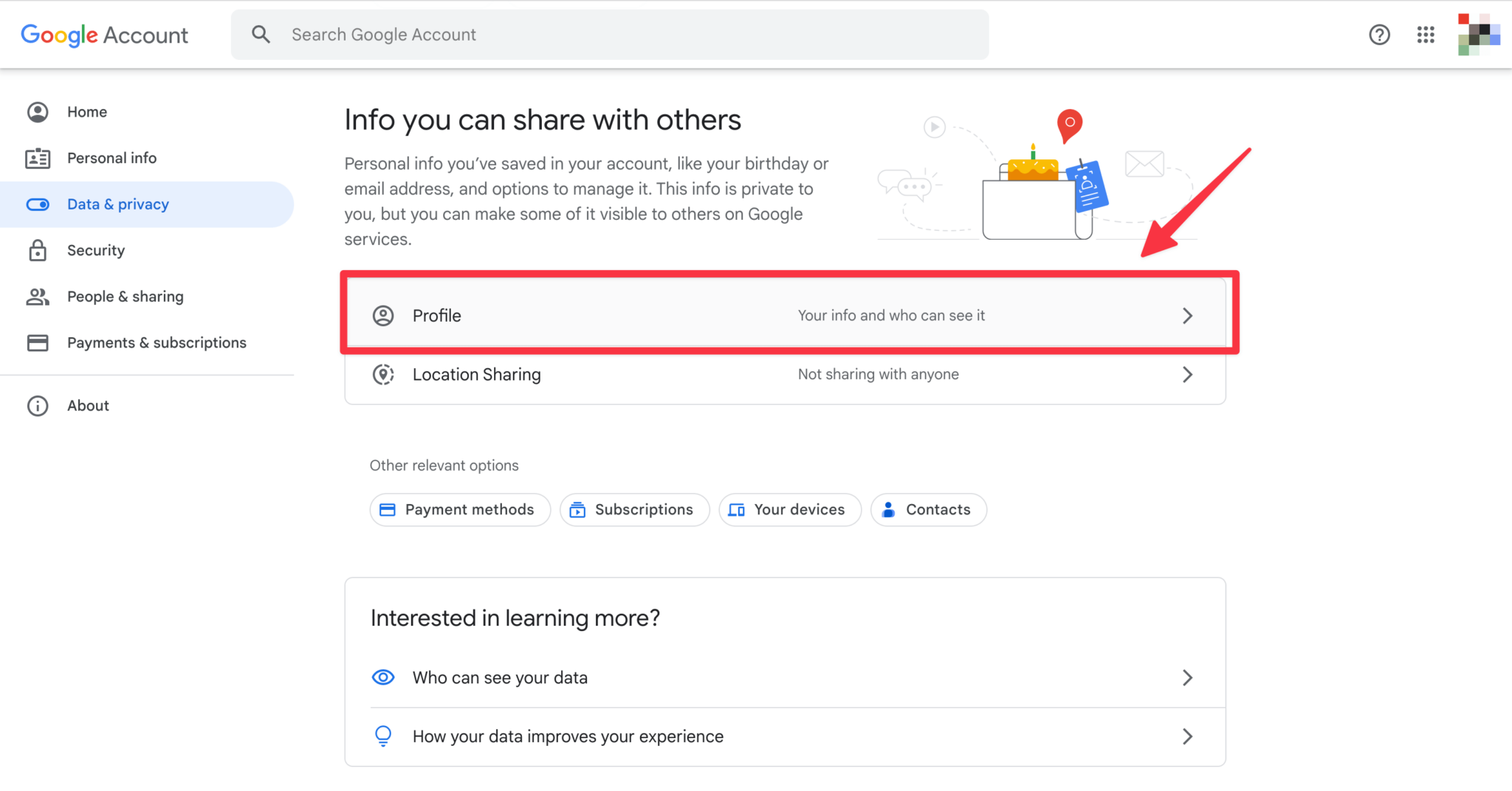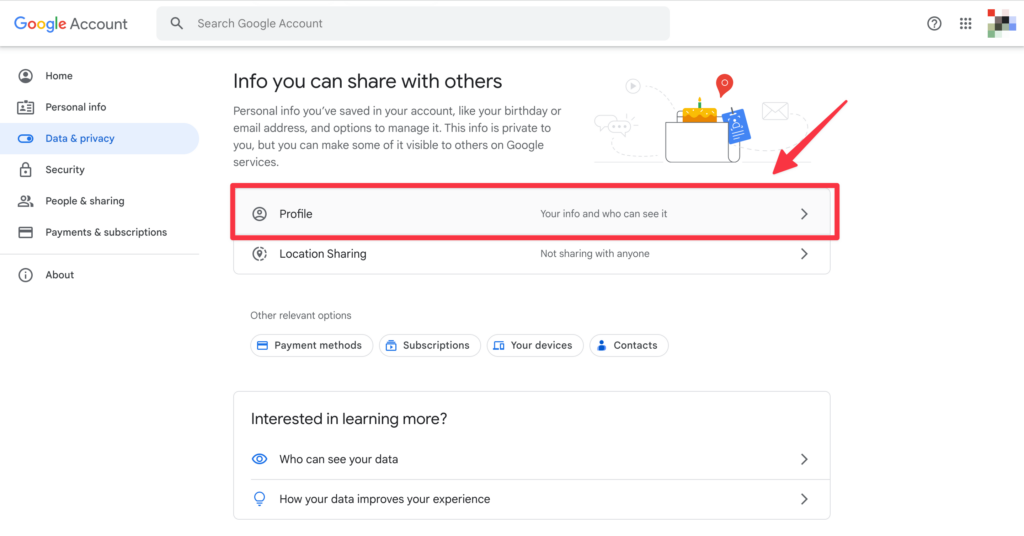 Step 2: Select Profile. Under the "About Me" page, you can control who can see your personal information.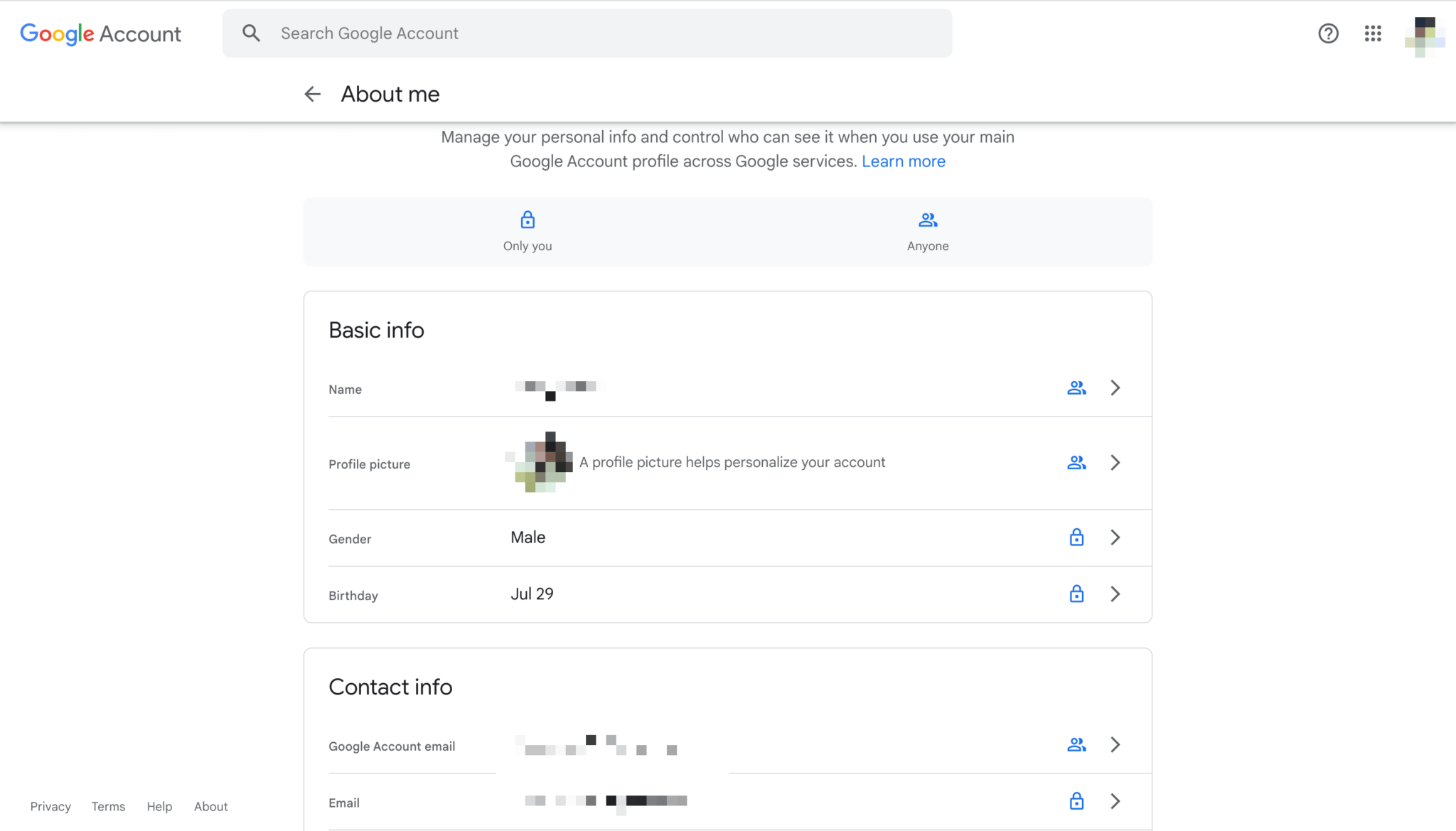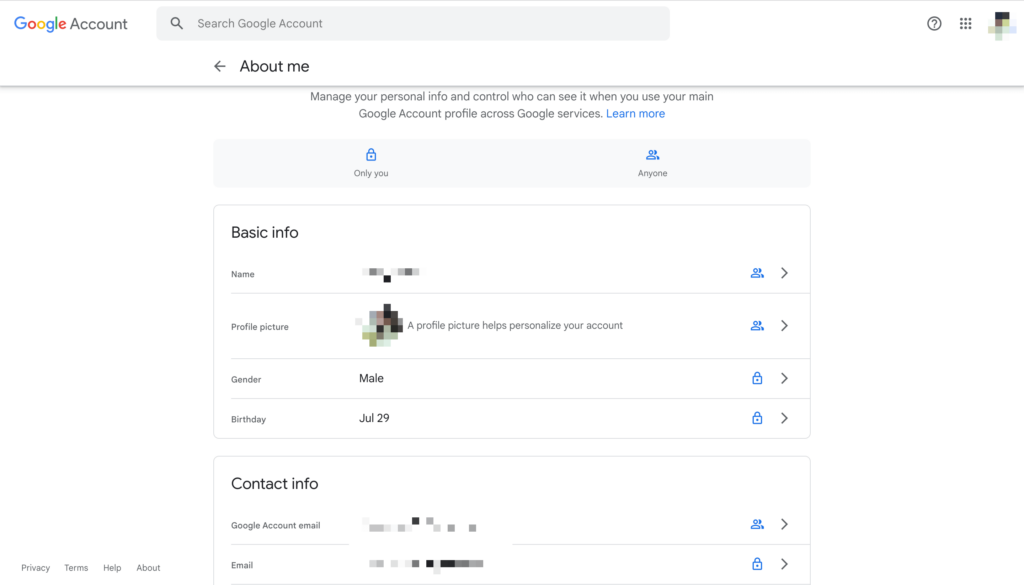 Step 3: Adjust the Basic Information, Contact Information, About, and Work & Education sections as necessary.
Step 4: Go back to the first step, select the location-sharing option, and make the necessary adjustments.
Google is Pretty Transparent About All of This
Google does not hesitate to inform users of the data it collects and why it does so. It explains on its "Your Data" privacy page that it monitors your emails, contacts, calendar events, and uploaded photos. Google even makes it possible for customers to download all of their data, which may include images, emails, bookmarks, contacts, and other information. This enables users to "copy, back it up, or even transfer it to another service."
Google assures its users that their information is secure while being transferred to and from their devices and the company's servers. It also claims that the data is safe in the cloud and that it does not provide "direct access" or "backdoor access" to any information to governments. Every request and user-impacting issue that Google receives is documented in a public report.
At the end of the day, Google says it won't sell your information but will use it to "make ads relevant" while you surf the web. It claims that none of this data is shared with marketers.
Frequently Asked Questions (FAQs)
Q1: What are some other sites like Google?
A: The best way to stop Google from tracking you is to quit using its services and goods, though you can limit the amount of information Google collects about you. In order to protect your privacy, we recommend the following services.
Google Search alternative: DuckDuckGo
Chrome alternative: Firefox or Brave
WhatsApp alternative: Signal
Gmail alternative: ProtonMail or Tutanota
Google Maps alternative: OpenStreetMap
Q2: Can I use my Google account to see the websites I have been to?
A: Google does not offer a feature that lets you see the specific websites you have visited with your Google account. If you have enabled the browsing history sync feature in Google Chrome and are logged into your Google account, you can view your browsing history.
In order to do so, in your Chrome browser, simply hit Ctrl+H (Windows/Linux) or Command+H (Mac).
Wrapping Up!
However, as was mentioned earlier, Google does have a significant amount of information about you. Google has made it clear that it will never share or sell your personal information. While you browse the web, it makes use of the information you provide to "make advertisements relevant."
We really hope that the article was informative for you.