In today's digital age, online privacy and security are paramount concerns for Internet users. With cyberthreats, invasive ads, and geo-restrictions on content, a reliable VPN service is essential for ensuring a safe and seamless browsing experience.
AdGuard VPN stands out as a comprehensive solution that offers robust security features, lightning-fast performance, ad-blocking capabilities, and much more. In this detailed review, we'll delve into the key benefits of using AdGuard VPN and explore the reasons why it's so attractive for users seeking a trustworthy VPN service.
But if you're already intrigued, try AdGuard VPN right now, especially since a two-year subscription is 83% cheaper today.
AdGuard VPN at a glance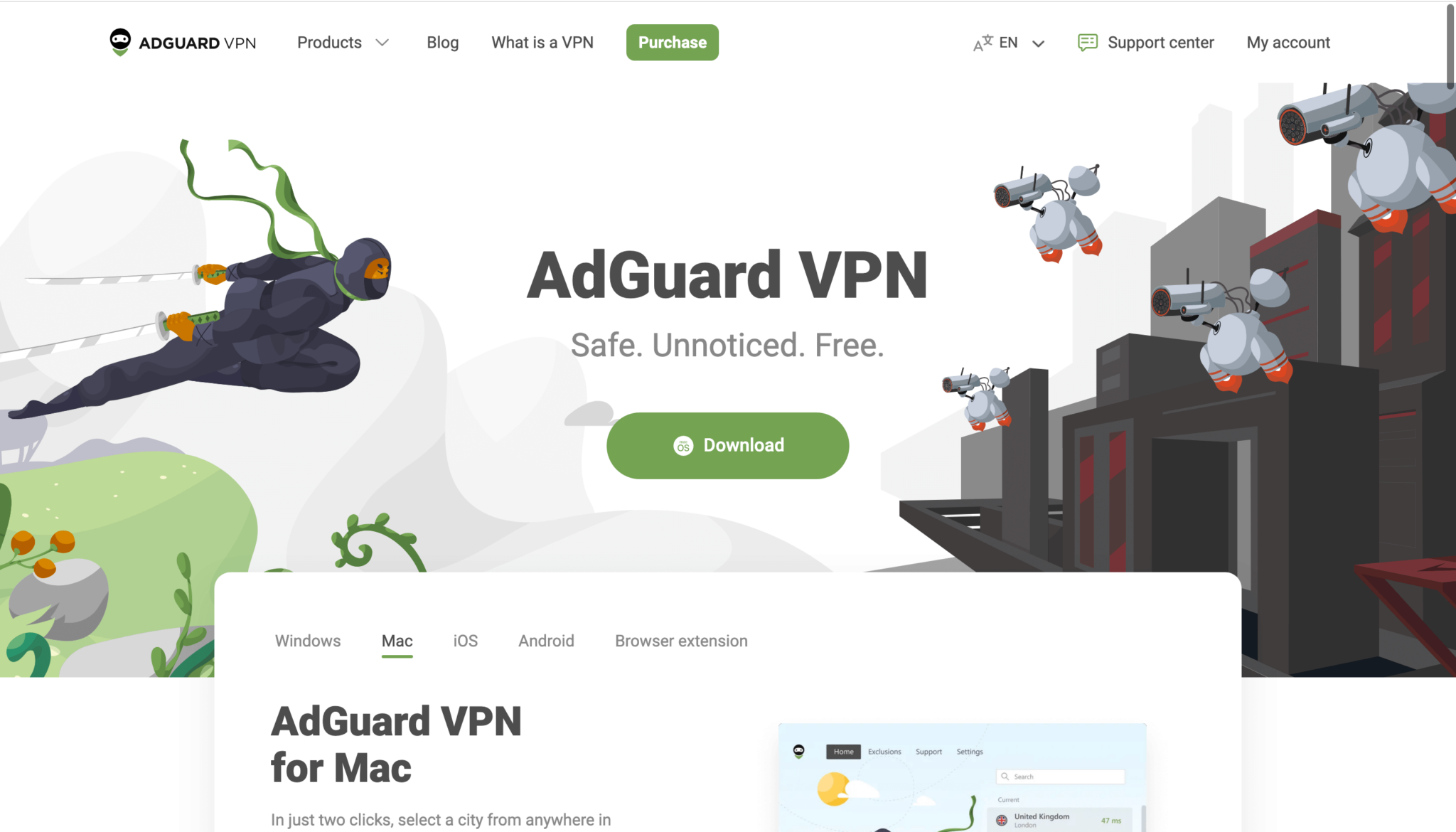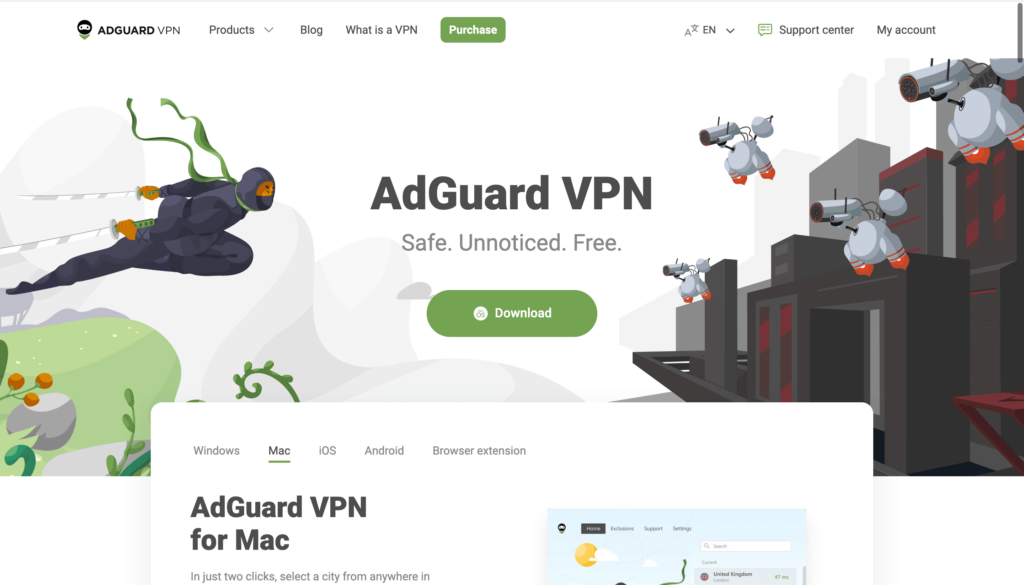 Top-notch security and privacy features
High-speed performance with a global server network
User-friendly interface and cross-platform compatibility
Ad-blocking capabilities through AdGuard DNS integration
Access to any content
Responsive customer support and flexible pricing plans
Uncompromised security and privacy
One of the primary concerns for VPN users is ensuring their online activities remain private. AdGuard VPN excels in this area, employing a unique protocol with a robust encryption algorithm (AES-256) to keep your data safe from prying eyes.
Its strict no-logging policy guarantees that your browsing history won't be stored or shared with third parties, giving you peace of mind when navigating the Web.
Blazing-fast speed and performance
When it comes to VPN services, speed, and performance are crucial factors. AdGuard VPN's unique in-house developed protocol provides high speed and excellent camouflage, ensuring that users don't have to tolerate slow internet connections or sacrifice their privacy. Additionally, it effectively masquerades as regular traffic, making it more difficult to detect and block.
One more thing to mention here: AdGuard VPN boasts a wide network of servers across the globe, enabling users to enjoy seamless browsing and streaming experiences. Its optimized server selection ensures you can connect to the fastest available server, minimizing lag or buffering issues.
Effortless ease of use
AdGuard VPN's user-friendly interface allows users to navigate between features and settings easily. And the unobtrusive animation on the main screen makes the experience of using the app more vivid.
Another advantage of AdGuard VPN is that it is easy to use for both beginners and advanced users. The app has useful features that are intuitive, such as Exclusions. With them, you can make AdGuard VPN run only on the websites and apps listed in Exclusions, or vice versa.
Convenient, isn't it? At the same time, AdGuard VPN has low-level settings that only tech-savvy users will understand and be able to configure.
Compatibility with the main OSs


Compatible with various platforms, including Windows, macOS, Android, Android TV, and iOS, AdGuard VPN ensures that you can secure your online activity on multiple devices with ease.
There's also an opportunity to install Chrome, Firefox, Edge, and Opera browser extensions.
Ad-blocking capabilities
A standout feature of AdGuard VPN is its ability to block ads when AdGuard DNS is enabled. Invasive ads and pop-ups can significantly hinder user experience, so the integration of ad-blocking functionality within a VPN service is a welcome addition.
To enable this feature, a user needs to configure AdGuard DNS settings within the AdGuard VPN app. By doing so, you protect your online privacy and security and enjoy a clutter-free browsing experience without annoying ads.
This added layer of protection shields you from potential malware and tracking embedded within ads, further enhancing your online safety.
Unrestricted access to content
AdGuard VPN allows you to bypass geographical restrictions, granting you access to a world of content that would otherwise be unavailable. Whether you want to watch your favorite show on Netflix or access restricted websites in your region, AdGuard VPN can help you unlock any content without any hassle.
Exemplary customer support
User pleasure is our priority; that's why AdGuard VPN offers reliable customer support to address any issues or concerns. Thanks to the responsive support team, users can find answers to their questions or receive assistance with technical issues.
Flexible pricing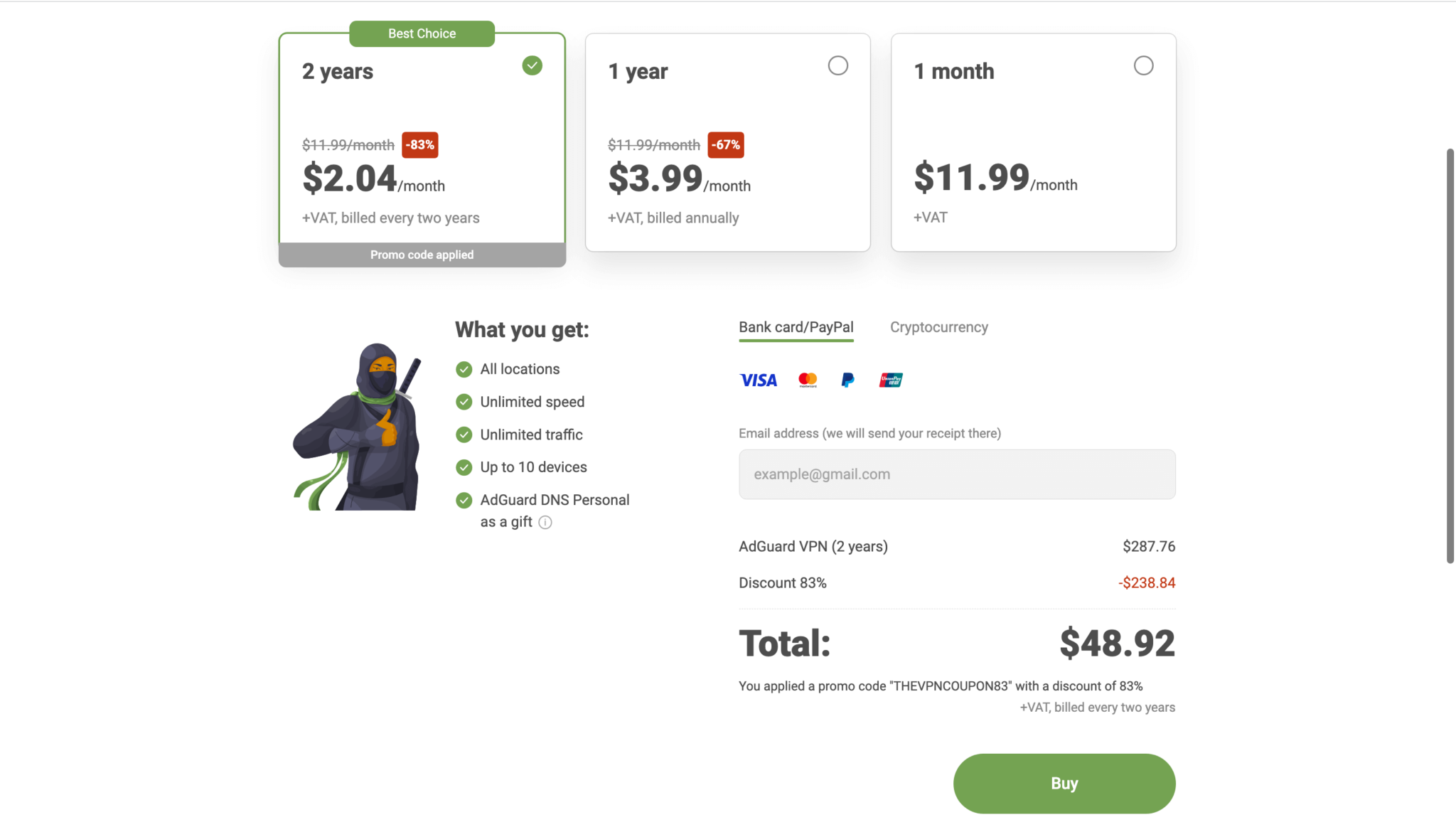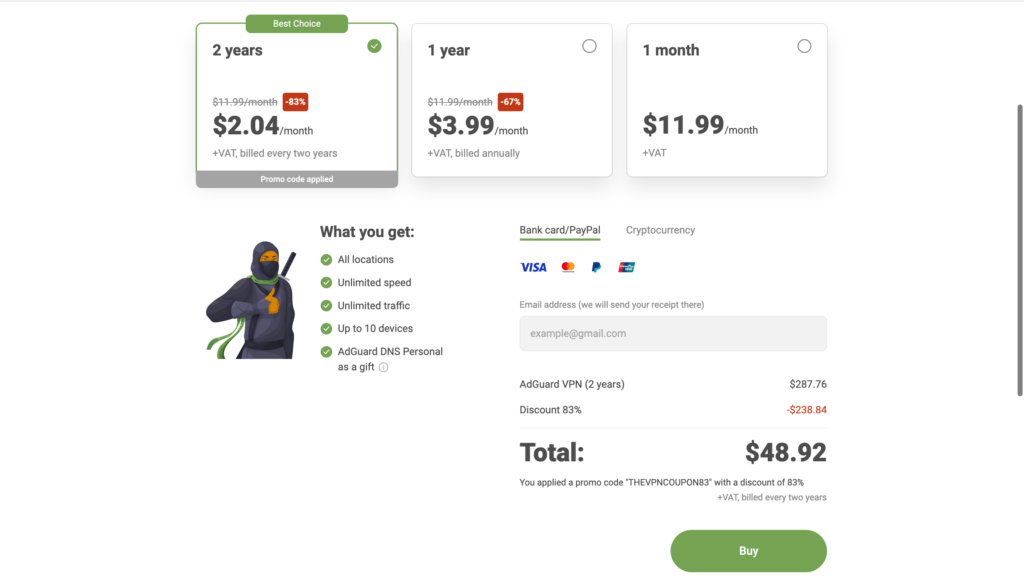 AdGuard VPN offers a few subscriptions to cater to different user needs. Whether you require a short-term solution or a long-term commitment, you can find a plan that fits your budget.
The free version of AdGuard VPN offers 3 GB of traffic per month, 20 Mbit/sec speed, a limit of two simultaneous device connections, and a few available servers. However, if you decide to upgrade to AdGuard VPN to the Unlimited version, you'll enjoy numerous additional perks:
Unlimited traffic
No speed cap
65+ locations and 1000+ servers worldwide
Up to 10 devices connected simultaneously
And now, you can take advantage of an AdGuard VPN 2-year subscription at 83% off and enjoy all its benefits!
Trustworthy developer with a solid reputation


In an era where VPN providers can trade user data and ad blockers can inject ads, it's crucial to choose a service from a reliable developer.
AdGuard Software Limited, the developer of one of the world's most popular ad blockers, has consistently adhered to zero-logging principles since its foundation in 2009. AdGuard VPN is a service developed by the AdGuard team, maintaining the same high standards.
In conclusion
AdGuard VPN is a well-rounded and reliable VPN service that offers its users a wide array of benefits. With top-notch security and privacy features, unrestricted access to content, a user-friendly interface, cross-platform compatibility, and ad-blocking features, AdGuard VPN is undoubtedly a strong contender in the VPN market.
The service also boasts unique developments such as the proprietary protocol, websites, and app exclusions, along with features that no self-respecting VPN can do without, such as Kill Switch or Split Tunneling.
If you're looking for a fast, secure, and versatile VPN that offers good value for money, you can't go wrong with AdGuard VPN. Give it a try, and you might just find it to be the perfect solution for your online privacy, security, and ad-free browsing needs.